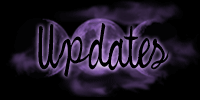 2020 -
????


2020 -
????

February, 20, 2020 -
I've updated my about page and put it in a new link.


May, 15, 2019 -
My adoptions page has been made and uploaded. I may add more adoptions on that page sometime soon
.

April, 19, 2019 - I've added and uploaded my multi/inter-faith belief's page on a different site link and will hopefully be adding more links in my new belief's page ASAP or sometime sooner.
2019
-
April, 4, 2019

-
I added a new counter on my site since the other counter from site meter shut it's own site down a couple years ago. I found that sad and the new counter I found from Flash Counter will still be around and hopefully still working.
March, 25, 2019
-
I have created and added a link to my Religious Belief's button last month and I am still working on the buttons and pages in my Inter/Multi-Faith Religious Belief's Page and also hopefully I will be able to work on these pages immediately and even links on my Religious Belief site too.
May, 31, 2016 -
The layout for my
site has changed. My bottom table didn't show up with my guestbook image properly so, now the image shows in this main table. The links for my guestbook also still works too.


May, 4, 2016 -
Telus came over to our new condo late this afternoon and installed our cable and internet! Now I can finally put other updated info whenever I get the chance to work on my other pages and add more info ASAP!
April, 25, 2016 -
My mum and me moved into our 1st new condo last night and 2 other nights ago so, my internet at my new home will be installed soon! I'll keep posting new updates through my cell and hopefully on my computer or tablet too.
April, 11, 2016 -
Some mouse over buttons work but others aren't showing up for some reason when their hovered but then I managed to fix the buttons that weren't hovering. The family history button is linked to My Heritage site and the friends button may work to my Facebook page after I wrote 2 days ago about my other pages that I'm still working on.


April, 08 & 09, 2016
- I have created new webpage buttons and still working on my other webpages.
November, 04, 2014 - My webpage layout was changed since I was using the Gothic web set and the buttons were made by me.

June, 20, 2013 - The link "Share the Magic" from swtmelode use to have personal webdesign graphics for anybody that would use for their own website, but now this site has changed not that there is nothing wrong about that. I like the new look on the owner's site but I do miss viewing the layout web sets and I even liked how the designs of the layout web sets were made. Times did change and so I hope the new site will be updated and also keep up the awesome work on the digital art as well! I also noticed that Tickie's Web Page Themes isn't working either! I hope the website owner will get that site up and running sometime soon. Tickie's Web Page Themes had awesome webdesign too!

June 19, 2013 - I'm still updating my Bio Page with more info in my profile!

December, 27, 2012 - I have bought myself a new desktop tower computer after Boxing Day as a new Christmas gift and its awesome! My new tower computer is an Acer and it works great for me at home! I gave my old tower computer to a friend of mine that I went and bought my new computer with. March, 8, 2013 - I've started writing out a blog on Google Blogger and will be trying to update it everyday!

November, 08 , 2010 - My internet at home doesn't connect me at all on my desktop computer so now I'd have to use the public library internet for now until I get a new desktop computer.

June, 03, 2008 - I have created my first photo album and will be adding more pictures to it.

October, 13, 2005 - Both of my email addresses with Gmail and Yahoo are working.

August,23, 2005 - I've updated a link to my biography site that I've worked on for quite a long time and also renewed my profile as well.